Program reduces pain & improves function in long-lasting ankle issues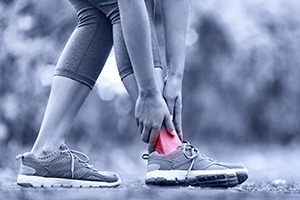 Some patients complain of continuous problems after an ankle sprain
Ankle sprains are common injuries often caused by participation in sports; in the U.S., about 23,000 ankle injuries occur daily. Unless the ankle sprain is severe, treatment is usually conservative (non-surgical) and consists of resting the ankle and sometimes physical therapy. Most patients experience a full recovery from conservative treatment and surgery should only be used in extreme cases; however, up to 34% of patients continue to complain of pain, swelling, re-sprain and other issues after their sprain and require further treatment. Unfortunately, it's not completely clear which treatment options are best for these patients, and for this reason, a high-quality study called a systematic review was conducted on different treatments for ankle sprains.
Five medical databases searched for relevant data
To find data for the review, five medical databases were searched for studies on various treatments for ankle sprains. Out of the 3,272 articles identified, 21 fit the necessary criteria and were used in the review. Of these, 20 were randomized-controlled trials (RCTs), the most powerful type of individual study, and the other one was a controlled clinical trial (CCT), which is similar. The studies investigated surgery, training programs and manual treatment from a physical therapist, and the training programs consisted of strength training, balance and other types of exercises. All studies were assessed for quality and their findings were compared to one another.
Evidence supports training programs and manual therapy for ankle sprains
Results showed that training programs for ankle complaints led to reduced pain and improved function, while manual therapy also led to positive effects when compared to patients that did not receive treatment. Both treatments are offered by physical therapists and may be helpful for reducing the likelihood of another ankle sprain. There was also evidence that for severe cases that require surgery, a training program used beforehand may lead to better results following the operation. Though further research is needed to confirm these findings, they still indicate that a training program guided by a physical therapist can improve function and reduce pain and the likelihood of further injury for patients with ankle sprains.
-As reported in the November'14 issue of
The Journal of Orthopaedic and Sports Physical Therapy
October 2, 2015
See All News