Activation Helps in Functional Recovery of Spine Surgery Patients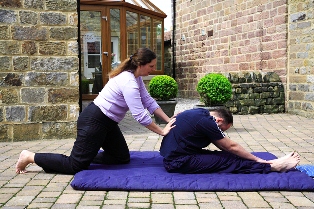 In spite of advances, outcomes following surgery still vary greatly
Spine surgery ranks highly as one of the most common inpatient surgical procedures performed in the U.S., and the frequency of its use has risen rapidly in the recent past. With the increase in surgeries have come significant advancements in surgical techniques, however, outcomes for patients following surgery continue to vary widely. One area of interest that's been gaining popularity is the importance of patient activation, defined as "an individual's propensity to engage in adaptive health behavior that may lead to improved outcomes" and identified as a potentially important factor in the recovery process. To gather a better sense of the role of this component, a study was conducted to determine the association between preoperative patient activation and functional recovery following spinal surgery.
Small sample of eligible participants fills out questionnaires
Patients who were treated for degenerative lumbar spinal stenosis with lumbar decompression were sought, and 65 patients were deemed eligible and agreed to participate. Subjects were given questionnaires on demographics and social characteristics, and were then assessed for patient activation and health measures. Patient activation was ranked on the following four stages: Stage I (patients overwhelmed and unprepared to play an active role in their own health), Stage II (lacked knowledge and confidence for self-management), Stage III (started to take action but lacked the confidence and skill to support health behaviors), and Stage IV (adopted many behaviors to support their health but weren't able to maintain them due to life stressors). Stage I was considered low activation, Stages II and III were intermediate, and Stage IV was considered high. Measures for intensity of current pain, disability, physical and mental health were also taken before surgery, and then again at 12 and 24 months after surgery.
Higher patient activation associated with much better recovery
At the preoperative visit, 15 patients were rated as having low activation, 34 with intermediate activation, and 16 with high activation. Results from pain assessment showed that overall, the intensity of pain decreased by 24 months after surgery, but the average decrease in pain for Stage IV individuals was significantly greater than it was for Stage I individuals. Along the same lines, for both disability and physical health, higher activation also led to much better results than low activation, though no major differences were found for mental health measurements in any categories. These findings make it abundantly clear that patient activation plays an integral part in recovery following spine surgery, as higher activation will lead to more significant improvements in important health parameters. This study should serve as a model for physical therapists and patients engaged in a rehab program after surgery, encouraging participation of the highest possible level to help bring about optimal recovery and positive overall health behaviors.
-As reported in the Sept. '11 edition of The Journal of Bone and Joint Surgery
February 27, 2012
See All News